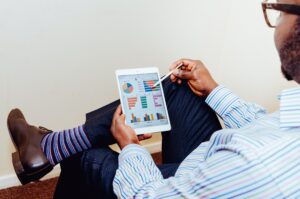 Your company's intellectual property (IP) rights are among its most valuable business assets. When properly obtained, managed, and enforced, they have immense value and protect the company's commercial power. Every business should periodically conduct an IP audit to ascertain their rights, the extent of protection they are entitled to, and the value of the company's IP assets. Informed business decisions require an in-depth understanding of the company's IP rights. 
What is an IP Audit? 
Businesses with tangible assets frequently perform inventory audits. Similarly, an IP audit involves taking inventory of a business's IP. The audit also includes IP protections and uses that can be modified or improved to accomplish the business's goals. It's a process that provides a business with a clear understanding of their IP rights. An IP audit: 
Identifies a company

'

s IP

 

Evaluates

 the extent of 

a company

'

s IP

 rights

 individually

 

 

D

etects 

necessary additional

 

protections to secure 

IP 

 
IP audits should generally be performed at least once per year at the same time of year if possible. If a company is renewing or drafting a license agreement, an IP audit needs to be done. Mergers, acquisitions, or stock purchases should also trigger an IP audit.  
IP Audit Steps 
An IP must follow specific steps to be successful and produce the desired outcome. The company's size and assets typically determine the length of an IP audit. 
Typically, there are three distinct phases or steps to every IP Audit: 
Identifying All IP Assets 
All of the company's intellectual property is identified, including patents, registered trademarks, and copyright registrations. Other IP to identify includes: 
Pending patent applications

 

Pending trademark applications

 

Trade secrets

 

Licensed IP rights

 

Trade dress

 

Mask works (a particular 

kind

 of copyright

 protection

)

 

Contracts

 

L

icensing agreements

 

Domain names and hyperlinks

 
Evaluating Associated Rights 
After all IP is identified, the rights attached to each piece of IP need to be determined. Each IP right has a value. For example, the business might own a patent for one of its products. However, suppose they have an exclusive licensing agreement that gives the right to use the product to a different party. In that case, the business doesn't have the right to use the patented product, though they still own the patent. The patent is still valuable to the business, but their ability to use it is bound to a licensing agreement. 
Addressing Any Deficiencies and Securing Rights for Areas that Lack IP Protection 
The final step in an IP audit involves an evaluation of any holes or gaps in IP protection. If deficiencies are identified, the business can take the necessary actions to secure the required IP forms to cover those gaps. Steps your business might need to take: 
Establish ownership for each piece of IP

 

Verify the r

ecordation of transfers 

 

Perfect security interests in the IP 

 
How Your Business Will Benefit from an IP Strategy 
No matter what type of business you own, you must have an IP strategy. Without one, your IP isn't protected and likely isn't working to increase your company's value. With an IP strategy in place, you can: 
Drive profits and increase revenue opportunities

 

Reduce legal risks and dependencies toward third parties

 

Position your company as a unique provider of goods or services through a range of

 e

nforceable legal rights

Maximize company ROI to its shareholders

Boost company valuation in view of its financing and/or exit strategy

 
Put into simple accounting terms, an IP strategy's goals are to maximize assets and minimize liabilities. 
A thorough IP Strategy focuses on the intangibles that form the virtual totality of a company's assets. However, they are often neglected by management because they are not as visible as tangible assets are. IP doesn't need to be reported in financial reports. A well-articulated IP approach is part and parcel of the complete business plan. It plays a substantial role in allowing a business to attain and preserve a long-term competitive advantage and return value to its investors and owners. 
Turn to Hackstaff, Snow, Atkinson & Griess, LLC for Your IP Needs 
You aren't required to have an attorney to register your IP. However, like many steps in growing a profitable business, just because you aren't required to have legal representation doesn't mean that you shouldn't. Without an experienced IP attorney, you could be giving up valuable rights, losing money, and failing to meet crucial goals. 
When you work with the attorneys at Hackstaff, Snow, Atkinson & Griess, LLC, your business's value and protection will increase. It takes a deep understanding of every layer of detail to appreciate a company's goals when approaching the IP process. We have what it takes to address your IP needs effectively. Call us today to schedule your IP audit or learn more about how we can serve you: 303-534-4317.