Partner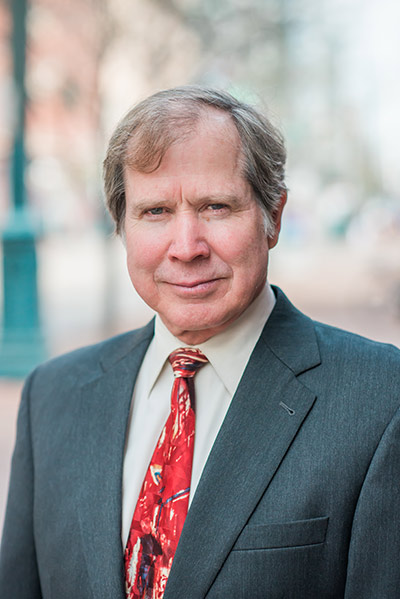 Practice Areas:
Business Formation and Operation, Estate Planning, Taxation, Asset Protection, Probate, Real Estate, International Business Law and Transactions, Alternative Energy Transactions, Nonprofit and Charitable Organizations, Real Estate Development, and Public Policy.
Biography:
Mr. Hackstaff began practicing law in 1983 after practicing for 2 years as a Certified Public Accountant. He graduated from Georgetown University Law Center in the top third of his class while acting as the Student Bar Association President. He became a partner in Jensen Byrne Parsons Ruh and Tilton P.C. in 1991. Mr. Hackstaff then co-founded the predecessor to Hale Hackstaff Tymkovich, LLP in 1993 which grew to a 21-lawyer firm. He formed his current firm in 2005, and practiced under the name of Hackstaff Law, LLC, Hackstaff Gessler, LLC, Hackstaff Law Group, LLC and finally Hackstaff, Snow, Atkinson & Griess, LLC,. There is one other lawyer at Hackstaff, Snow, Atkinson & Griess, LLC who is also a CPA, who participates with Mr. Hackstaff in providing sophisticated service in many areas of tax planning, business advice and consultation. The firm now consists of 8 lawyers, 2 of whom are fulltime litigators. The remaining six attorneys focus primarily on transactional matters such as estate and business planning.
Mr. Hackstaff's work today is in estate planning, wills, and trusts as well as probate. Because of his sophisticated background, he can guide clients through the complex process by identifying their unique needs and wishes for how their healthcare, finances, gifting, and businesses should be managed in case of illness or incapacity. By asking questions that relate to the numerous different life scenarios he is able to fine-tune a client's wishes and create documents and set up business structures that help a client and their family operate and protect their businesses, plan for taxation, retirement, probate and estate distribution.
Mr. Hackstaff also is currently working with Mr. Snow on renewable energy projects with landowners, developers, lenders and investors. His practice areas also include domestic and international commercial transactions, and entity selection, formation, operation and dissolution. A focus of his practice is the tax consequences and concerns that surround all entities including renewable energy projects. He also assists individuals with risk management, real estate purchase, sale and financing, nonprofit entities and charitable organizations.
Prior to practicing law, Mr. Hackstaff practiced as a Certified Public Accountant with Peat Marwick Mitchell, CPAs (now KPMG) and was a member of the American Institute of Certified Public Accountants and the Colorado Society of CPAs. His concentration during his employment with Peat Marwick Mitchell was in the banking, oil and gas, real estate and charitable entity areas.
Education:
University of Colorado, B.S. Accounting, 1979 with honors, (with a concentration in Finance); Georgetown University Law Center, J.D., 1983 (with a concentration in Business and Taxation).
Admissions:
Colorado Bar
Current and Recent Professional Memberships:
Colorado Bar Association, Denver Bar Association, Colorado Cleantech Industry Association, American Wind Energy Association, Colorado Renewable Energy Society.
Distinctions:
CPA 1979 – passed first attempt.
Bar Exam 1983- passed first attempt. AV Rated by his peers (Martindale Hubbell).
Mr. Hackstaff has presented lectures and training seminars on a variety of topics, including Renewable Energy, Estate Planning, Estate Tax and Retirement Planning, Entity Selection and Formation, Operation and Dissolution, Income Tax Planning, Income Tax Compliance, Business Planning, and Asset Protection.
Mr. Hackstaff has served on various committees and councils of the Denver Metro Chamber of Commerce as well as other volunteer organizations and received Denver Metro Chamber of Commerce's volunteer award in 1991. He served for five years on the Board of Directors.
Mr. Hackstaff was involved with the Permitting and Siting of Electric Transmission Facilities Task Force which was tasked with reviewing Colorado's Transmission Regulations. The task force was created by S.B. 11-045 and was comprised of 17 members.
Mr. Hackstaff is currently a member (formerly the Chairman) of the Corporate Board of the Cancer League of Colorado. From 2015 to present Jim, together with his law partner, John Snow, co-chaired Cancer League of Colorado's annual Over the Edge fundraising event, successfully raising over $2 million for cancer research.
Mr. Hackstaff has been involved with the National Board of Book Trust since 2019, prior to that, he was on the Board of the Denver Book Trust for 11 years. Book Trust is based in Denver but helps children from low-income communities in school districts across the county to choose and buy their own books throughout the school year.
Fishing CV Available upon request.