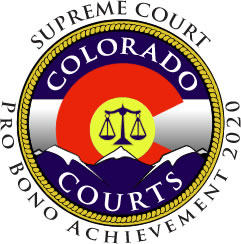 At Hackstaff Snow Atkinson & Griess, we believe that practicing law is more than just assisting clients who can pay. It's also about community service, civic duty, and leaving a positive impact on the lives of others.  
Since our inception, we've made it our goal to help Colorado's underserved individuals and organizations with their legal needs. While we don't participate in these activities to gain any recognition, we'd like to take the time to congratulate four of our attorneys who were recently recognized for their pro bono work by the Colorado Supreme Court.  
The Colorado Supreme Court Pro Bono Legal Service Commitment and Recognition Program 
Pro bono legal services play an integral role in access to justice in Colorado, so much so that these services are highly encouraged by the Colorado Supreme Court. In support of RPC 6.1, the Colorado Supreme Court recognizes solo practitioners, law firms, and in-house counsel or government groups that commit to and complete the yearly goal of 50 hours of pro bono legal services. 
Public Service Under the ABA
Under The American Bar Association's Model Rules of Professional Conduct (RPC) 6.1, each attorney assumes a professional duty to render legal aid to groups or individuals that cannot afford such assistance. They strongly encourage a minimum of 50 hours of pro bono legal work every year. Lawyers can provide these services to one or both of the following: 
People of limited financial means 

 
Charitable, religious, civic, community, governmental and educational organizations that aim to address the needs of persons of limited means

 
Additionally, they should make it their goal to: 
Provide free or substantially reduced legal services to individuals, groups, or organizations that seek to support or protect civil rights, civil liberties or public rights, or charitable, religious, civic, community, governmental and educational organizations if paying average legal fees would essentially drain their financial resources 

 

Provide legal services at a considerably reduced fee to persons of limited financial means

 

Participate in actions that further improve the law, the legal system, or the legal profession

 
Willingly give financial support to organizations providing legal services to people of limited financial means

 
HSAG Attorneys Recognized
The Colorado Supreme Court recently recognized HSAG in their 2020 Pro Bono Recognition Program. This honorable recognition is only given to law firms that commit to and complete an annual goal of a minimum of 50 hours of pro bono legal services provided by their Colorado-licensed attorneys. 
The HSAG attorneys who participated include: 
Jim Hackstaff
Mr. Hackstaff has been practicing law since 1982. Today, he focuses his practice on estate planning, wills, trusts, probate, risk management, real estate purchase, sale and financing, nonprofit entities, and charitable organizations. He is also working on renewable energy projects with landowners, developers, lenders, and investors while focusing on such projects' tax consequences. Jim is on the Board of Book Trust providing free books to children in poorer school districts to foster literacy and a love of reading. 
John Snow
Mr. Snow was admitted to the Colorado Bar in 2003. Since 2005, he has served on the Corporate Board of Cancer League of Colorado and as Chairman of the annual charity golf event. His practice concentrates on renewable energy project development, estate planning, corporate law, real estate, entity selection and formation, and nonprofit tax advice. 
Aaron Atkinson
Mr. Atkinson is on the board and works with Rebuilding Together Metro Denver and provides pro bono services through JAMLAC's Pro Bono Project. Mr. Atkinson's accomplishments include: 
Rated AV Preeminent through Martindale Hubbell 

 

Selection for the Rising Stars list by Colorado Super Lawyers for seven consecutive years

 

Lead Counsel Verification in Civil Litigation from LawInfo

 

Obtaining judgment awards totaling over $1,000,000 against defendants in Colorado courts

 

Defending the State of Colorado with the Attorney General's Office

 
He focuses his practice on several areas, including civil litigation, minor business disputes, insurance claims, and construction defects. 
Doug Griess
Mr. Griess graduated from the University of Virginia School of Law in 2003. He has experience working with manufacturing, distributing, construction, technology, and professional service companies and their owners, advising businesses on transactional issues from formation to dissolution, including LLC Operating Agreements, business exit, succession planning, and soft intellectual property issues from trade secrets to trademarks. He also has many areas of community involvement, such as: 
Denver Metro Chamber Leadership Foundation, Leadership Denver Class of 2022

 

Alliance Defending Freedom (ADF), Allied Attorney, 2012-present

 

Legal Aid Clinic Volunteer, Denver Rescue Mission, Larimer Street, and Salvation Army Clinic, Harbor Lights Center, 2006 to present

 

Chairman of the Board (2020-present) and volunteer (2006-present) with Justice & Mercy Legal Aid Clinic (JAMLAC) providing pro bono legal services to victims and underserved populations in the Denver Metro area

 
Congratulations to these four well-deserving attorneys. At HSAG, we are proud of their pro bono accomplishments and look forward to their future pro bono work as well.